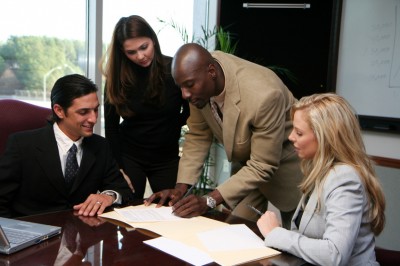 As a direct result of all of the economic realities we're faced with, more people are looking into starting their own business. For some people this will be a new and welcome direction.
However, starting and running a business isn't for everyone. When an employee wants to apply entrepreneurial traits to their career, they can do so as an "intrepreneur."
What's an intrepreneur? I'm sure there's more than one definition, but one way to define it is when an employed professional acts like an entrepreneur while remaining in the corporate environment. Instead of being reactive and not having any control over your career, you can use entrepreneurial traits to be more proactive in your career.
No one wants to feel that their work has no purpose. It's hard to get through a day or feel any excitement for what you're doing if you can't see why what you're doing matters. One reason why people go into business for themselves is because they want more freedom over their lives. They're tired of being in an environment where they spend the day reacting to the decisions of others.
This is where looking at yourself as an intrepreneur can change your entire outlook. If you're ready to adopt entrepreneurial behaviors such as taking more risks and creating a vision for what you want to achieve, you'll be less likely to get stuck in a career rut. It means taking responsibility for your decisions and for the results.
Here are tips to become an intrepreneur in your career right now:
1. Take an honest look at your job situation. How do things look in your company and in your industry? Are there growth opportunities?
2. Be open to learning and growing. If your skills have not been updated in years, find opportunities to upgrade them now.
3. What's your vision for your future? Where do you see yourself in six months or in a year? Are you willing to take steps to reach your goal?
4. Become more of a risk taker. Is there a project that you'd like to work on or a new process you'd like to introduce to your department? Are you willing to share your ideas or make a request for what you want?
5. Learn to trust yourself. If you don't have confidence in yourself or your ideas, it will be difficult for you to take charge of your career. You have to believe that you deserve to have a better experience and that you do have something to offer.
Whether you stay in your work environment or decide to move out into business ownership, you can transform your relationship with your work. Take charge of your career and go from employee to intrepreneur.
Copyright © 2009 – 2014 Deborah A. Bailey