Now that spring has finally sprung, you're probably itching to get started on cleaning/clearing out your space, and there's no better place to start than with your closet! Your closet is the one area that's probably collected the most dust in 2020, as the pandemic has left most of us working from home in our sweatpants. If you know you've been holding on to a surplus of clothing, spring is the best time to downsize things and commit yourself to creating a capsule wardrobe! Curating your closet to include only quality items of clothing that you love will keep you looking stylish and confident as you step out into a post-COVID world.
WHAT IS A CAPSULE WARDROBE?
A capsule wardrobe is a more compact selection of clothes that are both versatile and consistently in style. Think of it as a curated closet of just your favorite clothing items that you know you can rely on! While committing to a capsule wardrobe is definitely a minimalistic choice, keep in mind that you don't have to get rid of any clothes you're strongly attached to. Instead, focus on removing any clothing that you haven't worn in the last few years and are simply taking up too much space.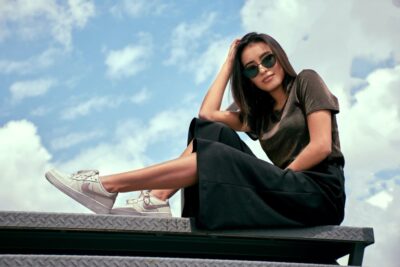 I'M IN! WHERE DO I START?
Before you immediately start throwing things in your donation pile, you'll need to have a stronger idea of what clothes you wear every day. The first step in this process is to take note of what you wear in any given week. Do you usually stick to athleisure clothing, or do you like to dress up a bit more? Do you have a go-to bra or a favorite pair of jeans? Keep track of your likes and dislikes along with the clothes you tend to gravitate towards so that you know what to look for when you begin your clean out.
I KNOW WHAT CLOTHES I LIKE MOST IN MY CLOSET. GREAT! NOW LET'S GET CLEANING:
The next step is to fully clear out your entire closet/dresser and pile your clothes in one place. While this might be overwhelming at first, Marie Kondo recommends this method as it will help you to see just how many clothes you actually have. Experiencing first hand the pile in front of you should be motivation to downsize a few things!
I HAVE THE PILE IN FRONT OF ME, NOW WHAT?
Now it's time to start organizing. You can do this by forming three different piles: "to keep," "to donate," and "I'm on the fence." Sorting all of your clothes into these three piles will take some time, so don't rush things. The most important pile out of all three is of the items you intend on keeping. Before adding anything to the "to keep" pile, ask yourself these questions:
DO I LOVE IT?
WILL IT STAY IN STYLE?
IS IT IN GOOD CONDITION?
IS IT SOMETHING I WOULD BE COMFORTABLE WEARING EVERY DAY?
If you can answer yes to every question above, keep it! If you have one or two no's, move it to the "on the fence" pile and revisit it at the end of the process. Should you answer no to three or more of the questions above, donate it.
Once you're officially done sorting, put the clothes you're keeping and the clothes you're on the fence about side-by-side. For each clothing item you're on the fence about, ask yourself if it would fit in with the rest of the clothes you plan to hold on to. In most cases, the answer will be no, but there may be a few stragglers you just can't part with, and that's okay!
I'M DONE SORTING. PERFECT! THE FINAL STEP IS TO MAKE SURE YOU HAVE QUALITY ESSENTIALS. EVERY CLOSET SHOULD HAVE:
 SEAMLESS UNDERWEAR – Every wardrobe should include undergarments you can wear under any outfit without causing panty lines or sacrificing comfort. If there is one thing you should invest in to complete your capsule wardrobe, it should be seamless underwear.
VERSATILE SHOES- The last thing you want when putting together an outfit you love is to realize you don't own the right shoes for it. Nowadays, a pair of white tennis shoes goes with just about every outfit and is an investment that is sure to stand the test of time.
ALL-WEATHER OUTERWEAR – Although you may already own several different jackets for each of the four seasons, having an all-weather trench coat is a must. Trenches have been in style for decades and can be comfortably worn during at least three of the four seasons.
FITTED JEANS – Jeans are the one thing you're sure to have had in your closet your entire life, which is why it's okay to splurge on them sometimes. If you haven't already, get yourself a pair of fitted jeans that you'll feel confident in during any month of the year!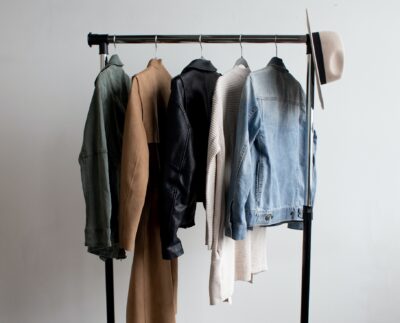 The good news is, you may already have the quality essentials listed above in your closet, which is great! However, if you are missing a few things, have some fun shopping for new pieces in order to fully complete your capsule wardrobe.
If you've officially made it to the end of this journey, give yourself a pat on the back! Creating a capsule wardrobe is definitely a time commitment, but for many it's a necessary one. What better way to set your style up for success than by spring cleaning as things slowly transition back to normal!