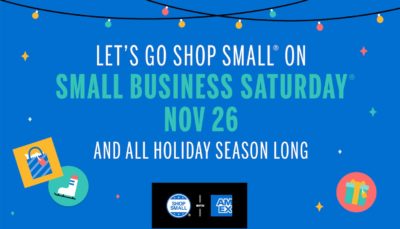 Women-Owned Businesses for Small Business Saturday and Beyond
These days the start of the holiday shopping season seems to go from Black Friday to Cyber Monday. But beyond those shopping days, small businesses are the backbone of the country. Most businesses here are small businesses, not the larger corporations. In my Women Entrepreneurs Radio podcast I've interviewed women business owners, creatives and founders since 2008. Now I want to share some businesses that I've personally purchased from and want to highlight.
NOTE: Most, if not all, of these companies have some sort of discount or promotion for holiday shopping.
Soaps, deodorants, washes and related products.
Not entirely women-owned, but I wanted to mention them in the list. On their site, they site their inspiration stemming from "being involved in the farmer's market culture. We were introduced to that community through our internship at Urban Sprout Farms, which showed us a lifestyle of health and sustainability. Growing plants is such a valuable skill and my time doing that skill had me yearning to learn a new skill of my own." Their products are all-natural, plant-based, hand-crafted and non-toxic.
Southern Elegance Candle Company
Founder and CEO, D'Shawn Russell leads this North Carolina-based company which ranks No. 25 on Inc. Magazine's List of the Mid-Atlantic Region's Fastest-Growing Private Companies.
The brand is "grounded in a love for coffee and a desire to help others, Ezra Coffee's self-made CEO, Jessica, perfected her roasting process to create rich, flavorful coffee blends that can be enjoyed by everyone and that don't need any help from a milk-based creamer." Core values include ethical sourcing, education, inclusion and empowerment. As a coffee lover I can say this brand produces some of the best coffee I've ever tasted (no exaggeration). My favorite blends so far are King Malcolm and Candied Yams.
The first premium Vietnamese coffee company boasts sustainably sourced products. Founder Debbie Wei-Mullin leads this company with products including Vietnamese pour-over coffee, lattes and ground coffee.
TGIN (Thank God It's Natural)
Founded by CEO Chris-Tia Donaldson (who I interviewed on the podcast several years ago) this black hair care company has gone from success to success. Currently it's available online and in stores including Ulta, Target and Walgreens.
I originally found this shop listed on Goldbelly (a site where you can buy food from restaurants and chefs from across the country. Based on NJ, founder and head-baker Joanne Canady-Brown makes an assortment of baked goods. You can visit her location, order directly from her site, or order via Goldbelly to have it delivered straight to your door.  Note: A more extensive selection of menu items is available through her shop.
YGN (You Go Natural)
Founded by Monique Little, this business features head wraps, turbans, headbands, bonnets and swim turbans for women and men in beautiful colors, fabrics and textures. Their values include Innovation, Quality, Heritage and People.
Though I haven't had the chance to try the products from this bakery, the selection looks delicious. They specialize in gourmet chocolate treats, so if that's your thing, check out their site. They also ship if you aren't in their local area.