Title: "How Will You Create Positive Change", book one in a series.
About the Author: Leah Oviedo is an author of 6 books, self-defense instructor, fundraiser, long time volunteer and community activist with a passion for equality, community involvement and access to information. She founded the Change is Up To You Project in 2012 to promote and support those who are being the change they want to see. Her volunteer career includes environmental and social issues for several organizations.
About the Book:
This is the first book in a series that encourages people to solve problems and create sustainable solutions in their communities. Sixteen amazing people from around the world have shared successful stories of how they created positive change in their communities.
Each interview includes a blueprint for how they took action, what obstacles they overcame, and advice on how everyone can be an active participant in creating a better world. These agents of change are championing for human rights, education, health, environmental sustainability, ending violence, eradicating poverty, mentoring youth, improving their communities, and inventing products that create a better world. They are different genders, skin colors and ages who live in different countries and have different beliefs. What they share in common is taking action.
Leah is stopping by the blog today to talk about her book and share an excerpt!
Deborah Bailey: Welcome to the Secrets of Success blog, Leah! What inspired you to come up with the idea for your book?
Leah Oviedo: Glad to be here! As an avid volunteer for various organizations over the past 15 years I wanted to highlight the amazing work that is being done across the globe. I was tired of reading so much negativity in magazines and online and noticing how major media outlets focus on bad news much more than good. Prior to creating the idea I was working on personal development and practicing 'being the change I want to see'. So this book series gives free promotion for all who participate
Deborah: Were there any challenges in writing this book?
Leah: Since all the books in this series contain interviews with people from around the globe and are all done via e-mail, it's challenging to gather the interviews. For those who procrastinate or forget I may have to follow up 3 or 4 times before they actually send it to me. In this first book, one person who I really wanted to include and who expressed interest actually contacted me the day I published the book so her interview was not included.
Deborah: So many people out there want to write a book. Any tips to share with someone who wants to be published?
Leah: I self-published all six of my books so the most important advice if you choose that route is to hire a talented, experienced editor and go for it! There are various publishing platforms to use. I chose Amazon because of the high profit margin, the ease of self-publishing and the many tools they offer can help your book get noticed. There is a lot of advice to market your book online and most of it offers very little return for the tie and work invested.. You will sell the most books by networking throughout your community, speaking engagements and simply sharing that you wrote a book without being pushy. Research marketing ideas that work with your personality and preferences. It took me a while to be any good at public speaking, but I overcame my doubts, prepared ahead of time and had fun.
Deborah: Do you have a favorite writing environment?
Leah: Quiet places! Give me a desk and comfortable chair and I can write for hours. However I'm also inspired when I'm outside walking in nature or downtown people watching. Unexpected inspiration can happen anywhere so I always carry a pen and notebook with me to jot down notes and ideas.
Deborah: Who do you think will benefit most from reading your book?
Leah: Those who have a passion for learning about the world, who are interested in social issues, and want to get involved in their community will be inspired. Also, those who volunteer or are starting a nonprofit will learn valuable advice and find resources to help them succeed. It makes a great gift for your family member or friend who volunteers.
 
Deborah: That's terrific. Can you share an excerpt?
Leah: Sure, Deb. Here it is:
"The role models in this book are not famous and don't have millions of dollars. They are not politicians or CEOs of large corporations. The media doesn't report their every move in the news, yet they are creating change that affects you, me, and billions of people. They are human rights activists, environmentalists, health activists, youth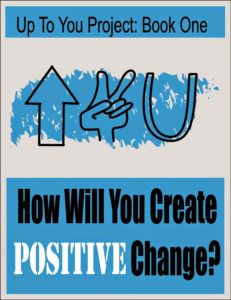 mentors, educators, innovators, and community leaders. They are different genders, ages, and skin colors. They live in different countries and have different beliefs. What they share in common is taking action to solve a problem. They consciously chose to make our world happier, healthier, safer, and accepting of others. They were not simply handed an opportunity, but instead saw problems and created solutions.
At the end of the book is information to help you take that first step and some resources to help you succeed.
My hope is this inspires you to be a force of change for good. Always remember that you are capable. Follow your passion to people and places who can guide you on your path. It has been said many times that you must actively be the change you want to see(in your personal life, community, and the world) for that change to happen. Wishing for and hoping will not make change. Learn from these amazing people. Take that first step and see what you can create.
Change is up to you."
Deborah: What a great message. Please share where readers can your book and where they can find out more about you.
Leah: the Paperback is available on, http://www.bookemon.com/book-profile/how-will-you-create-positive-change/358925 and the E-book is available on,
http://www.amazon.com/Leah-Oviedo/e/B007LMUEJ2/ref=ntt_athr_dp_pel_1
Here are my website and social media links: website and blog: http://changeisup2u.wordpress.com
Facebook: http://www.facebook.com/changeisup2u
Personal website: http://leahis.com
Just want to add that in addition to marketing my own books, I love to support other authors, especially those who supported me when I started. One way I do this is a monthly reading challenge on Facebook.
Each month I select a handful of books to feature from authors I know and books I've read. I invite hundreds of my friends and challenge them to read new books. This both encourages readers to discover books by talented authors and introduces those authors to a larger audience.
Check out the April Readathon at: https://m.facebook.com/events/801527406594941/?ref=ts&fref=ts&__nodl