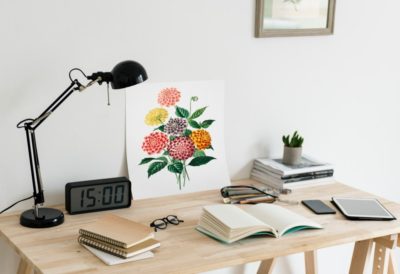 by Tiffany Rowe
"Do what you love, and you'll never work a day in your life."
This saying is famous, and for many people, it is incredibly true. Work doesn't feel as much like work when you are doing something you enjoy, something that inspires you to clock in and be better every day.
However, as much as you might want to do what you love, identifying what you love isn't always easy – and transforming what you love into a career can seem nearly impossible. If you are eager to have passion for your job, read on to learn how to find your passion and build a career around it.
Change Your Perspective
"I hate that." "I don't want to do that." "No."
A negative attitude closes you off from the world and prevents you from trying new things. However, to find your passion and use it, you will need to venture out of your comfort zone. Often, a negative attitude stems from fear of the unknown or fear of failure. Thus, you should change your perspective from one of fear or hatred to one of openness and enthusiasm. When this happens, you should find more opportunities available to you.
Scour Your Life
Undoubtedly, there have been times in your life when you have been happy. What caused that happiness? What about excitement – can you remember ever not being able to sleep due to your excited anticipation for the events of the next day?
Throughout your life, there have been signs of passion, but you might have been too busy to notice. Now, you can search through your memories to identify activities or environments that brought you joy. You should make a list of these potential passions and consider pursuing them further.
Play, Practice, Seek
You should devote some time to experimenting with the different items on your list to determine what you wouldn't mind doing for the rest of your life. Some people call this play; others call it practice – as long as you are exposing yourself often to related activities (which could turn into work) you are helping weed out things that you enjoy but aren't your true passion. Eventually, you will land upon one or more activities that you never grow tired of, and it is these you should consider transforming into your career.
Determine Your Hobbies
All passions can turn into careers, but not all should. For example, if you can't get enough of playing video games but you don't have any interest in learning how to design them, (or if you are older than 25) you probably should keep video games as a hobby.
After playing around with your interests for a while, you should have a more manageable list of potential passions that you can perform deeper research on. Using the web, personal and professional contacts and any other fonts of wisdom you can think of, you should look into potential careers related to your interests. Then, you should understand what those careers require from you in terms of talent, skill, knowledge and credentials. Doing this – and seeing all the work you need to put in to achieve your dream – you should be able to whittle your passion-career options down even further, maybe even to one.
Invest in Training
It's almost time to commit to a passion – but not yet. First, you might consider enrolling in some training programs for your potential careers, so you can get a better sense of whether you will continue to enjoy your interest when it becomes work. Plenty of sports fans are happy watching from the sidelines, but only a select few thrive in a sports management online master's program and make it to the big leagues. At first, you might gain a few credits at your local community college or a related MOOC while you sample your passions in academic study, but when you make a final choice in the direction of your career, you should enroll in a program that will provide you with adequate education and credentials.
Be Flexible and Brave
Even though you will love what you do, the path of your career won't always be easy. You should plan for challenging periods in your career, such as landing your first job in the field or striving toward major milestones, and you shouldn't be discouraged when you don't rise to the top right away. Some days will be a slog, but if you build up the courage to pursue a career in something you feel passionate about, you are more likely to find meaning in your work and feel satisfied by a day well done.
About the Author: Tiffany is a leader in marketing authority, she assists Seek Visibility and our clients in contributing resourceful content throughout the web. Tiffany prides herself in her ability to create and provide high quality content that audiences find valuable. She also enjoys connecting with other bloggers and collaborating for exclusive content in various niches. With many years of experience, Tiffany has found herself more passionate than ever to continue developing content and relationship across multiple platforms and audiences.
Picture credit: