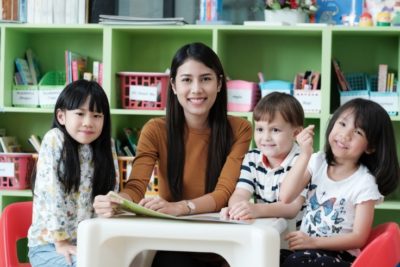 Guest Post by Tiffany Rowe
If you yearn not just to visit as a tourist but to live in another country, absorb its culture, expand your understanding of the world and just plain have an adventure, there are few better ways to do it than by becoming a teacher of English to speakers of other languages.
Twenty percent of the world's population speaks English, making it the second-most-spoken language on the globe. Increasingly, many people who don't already know English want to learn it, making English by far the most commonly studied language in the  world, well ahead of French in second place. Why? Because English has become the language of multinational business, of diplomacy, of the internet, of science, of tourism and of media.
Native English speakers in particular are sought-after as teachers in countries across the world, offering options for you to satisfy your wanderlust in Thailand, Indonesia, Russia, China, Spain, Somaliland, Brunei or Brazil, and other points north, south, east and west. There are even many opportunities to teach English as a second language in the United States to children and adults alike.
Whether you teach in a place far from home or in the town where you were born, be prepared to get an education right along with your students. There's no other classroom setting where you'll have the chance to interact as personally with students from such a wide spectrum of national and cultural backgrounds bringing their own perspectives to the process and opening your eyes to different ways of thinking about things.
Sound interesting? Read on to learn how to prepare yourself and more about this fascinating career.
What You Need
Having a comprehensive grasp of the English language is essential, of course, but knowing how to speak a language isn't the same as knowing how to teach it. The discipline is known academically by several names: teaching English to speakers of other languages (TESOL), teaching English as a foreign language (TEFL) and teaching English as a second language (ESL), but they all mean essentially the same thing.
For teaching in schools, particularly in the United States, you'll need a masters degree. Don't let that stop you, though, because if you're currently working you can continue in your current position while you get a masters in TESOL online.
What You'll Learn
Specific topics will vary depending upon the college or university you choose, but you can expect to study course material similar to the following:
Basic concepts of instruction, including theoretical material and practical resources.
Core concepts for understanding and implementing research in the field, using both quantitative and qualitative methods and designs, historical and descriptive research as well as program evaluation.
Effective teaching practices for emerging bilinguals and additive bilinguals. This study includes examination of how learning to read, write, and speak in a new language is similar and/or dissimilar from the same processes in a first language, as well as cognitive, sociocultural, linguistic and educational perspectives.
Basic foundations of language analysis, covering linguistic topics common to all human languages along with their grammatical, phonological and semantic aspects.
Essential components of literacy instruction including phonemic awareness, phonics, fluency, vocabulary development and comprehension.
Methods of assessment, including diagnostic technique used to identity and remediate specific learning difficulties associated with normal second-language acquisition and development.
Multicultural education to provide you with an understanding of the challenges you might find in classroom settings that include students with widely divergent ethnic and cultural backgrounds.
What Else You Can Do Outside a Classroom
If classroom teaching isn't your thing, you can also apply your knowledge in a number of other kinds of positions. You might teach English or develop English language materials in a business, healthcare, science or technology context. You might serve as an advisor to a government agency or other institution, be an administrator of an English language program, teach other TESOL instructors at home or abroad or become a private language arts tutor.
As a career, what could be better than teaching people how to listen and talk to each other? Throw in the ability to do the work wherever in the world you'd like to live and that makes this career just about perfect.
About the Author: Tiffany is a leader in marketing authority, she assists Seek Visibility and our clients in contributing resourceful content throughout the web. Tiffany prides herself in her ability to create and provide high quality content that audiences find valuable. She also enjoys connecting with other bloggers and collaborating for exclusive content in various niches. With many years of experience, Tiffany has found herself more passionate than ever to continue developing content and relationship across multiple platforms and audiences.