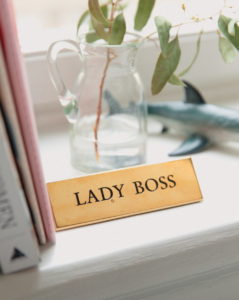 by Madison Crader
There's never a perfect time to start your own business. But there are plenty of reasons why taking the plunge today is a good move.
According to the Eighth Annual State of Women-Owned Businesses Report by American Express, on average, women are starting over 1,800 new businesses every day.
This rapid growth in women-run businesses outpaces the rate of new business ventures in previous years—including both before and after the recession and recovery period from 2007-2012.
In other words, more women are diving into the world of entrepreneurship than ever before. And for good reason.
Here's why you should too.
1. More flexibility
Being your own boss has its perks. One of which is the ability to control your time. While you may still face long hours at work (especially during the early bootstrapping phase), your time is yours to manage and dedicate as you choose.
This is appealing to many people but, for women in particular, who still tend to be the primary caregivers in their families, this flexibility can be a game changer. Parents and caregivers who run their own businesses can more easily prioritize their families and schedule time for the things that matter most to them.
2. Better pay
Starting your own business also gives you the chance to improve your income and eliminate the gender pay gap in your own life.
According to the U.S. Census Bureau, full-time working women still earned only 80 percent of what their male counterparts did in 2016. Running your own business means you can call the shots on your salary opportunities by charging what you're really worth.
3. Personal and professional growth
Starting a business is a big endeavor. There will be challenges that stretch you and opportunities for growth you won't find in a regular 9 to 5 job.
As the founder of a business, you will wear many hats—especially in the beginning when you may be the one and only employee of your company. You will be responsible for handling all parts of the business, including product, accounting, customer service, and marketing.
Although it may feel like barely-controlled chaos some days, running your own business will give you valuable experience and many opportunities for growth. This personal and professional development will serve you well as head of your company and give you greater confidence and self-fulfillment in life.
4. Opportunities to make an impact
One of the main reasons people choose to start a business is to make an impact. Some people see a problem they want to fix through their products or services; others hope to make a difference through their company's culture or mission.
Whatever your goal, starting your own business is a great way to make a difference.
5. More mentorship opportunities
Mentorships are valuable ways for professionals to further their careers and gain insight into their industry. Unfortunately, women often get left behind with fewer mentor opportunities than men.
Entering the world of entrepreneurship can unlock more mentoring opportunities—both for you to connect with other business leaders and role models, and to become a mentor yourself.
For instance, women-owned businesses are a rapidly growing group. When you start your own business, you can dive into female entrepreneur networks and build your connections with strong role models.
6. Easier access to funding
One of the biggest challenges to starting a business is funding it. Since most people don't have millions of dollars laying around to invest in their next Big Idea, coming up with the cash to finance their business can seem daunting.
Luckily, funding your business is easier than you might think. There are many business loan options for small businesses—and even some specifically for women. With so many choices, you're sure to find a loan that fits your financial and business needs.
7. Increased health and happiness
Starting your own business can make you happier and healthier than you ever were in your day job. That's right. Despite the new or added stressors of running your own business, research has found that overall, entrepreneurs report greater mental well being than full-time employees.
Turns out, having greater flexibility, autonomy, and earning potential (along with the confidence and empowerment that comes with running your own business), is a recipe for happiness.
While there are always reasons to delay your business dream, now is the best time to start. Don't put off greater happiness, health, and opportunities. Take the chance and dive in today. You'll be glad you did.
About the Author: Madison specializes in content related to small business building brand awareness and gaining access to capital to grow their business. She has a passion for helping entrepreneurs grow their business and set long-term goals by sharing tips and tricks.
Picture credit: Marten Bjork on Unsplash

This article originally appeared on the Secrets of Success blog.