I used to wa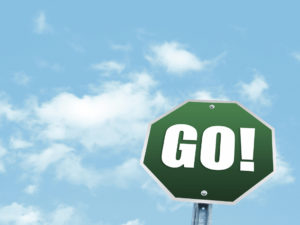 tch a lot of reality shows where people competed for prizes. In one of the shows, one of the contestants was worried that another person would take "her" prize.
Nope. There's no way that anyone else could've won her prize if it was really hers.
That's not the way it works.
If you have a dream or desire there is a way for it to manifest. Really. That's why you have it in the first place. I don't mean a daydream or a wish. Like if you wished you could be a champion ice skater in the Olympics and you've never set one toe on the ice.
I mean a desire, a passion, a thing that drives you to get up and get going.
I'll give you an example. Years ago after I graduated from college, I had a dream to visit Paris one day. Not only that, but I wanted to get a job in the fashion industry. About two weeks later, I got a brochure from Parsons School of Design for their summer in Paris program. Imagine my surprise.
And what's even more interesting, I never put myself on Parsons' mailing list. Yet here was the brochure. After reading it, I made my decision. I was going. So I filled out the application and sent it in. About a month later, I got the news, I was accepted. I was going.
Here's the thing, I could've received that brochure and tossed it aside. I could've procrastinated. I could've let fear stop me from taking any action. But instead when the opportunity came, I jumped on it. It was my dream and my desire, and I didn't let it pass me by.
Here's how it goes:
Create a vision for what you want
Believe in it even when you don't see any sign of it coming (that's especially the time to believe)
Prepare for its arrival
Recognize it when it comes (if you have a vision, you'll know what your opportunity looks like when it comes)
Trust your gut and take inspired action
When preparation meets opportunity, that's called luck. You're ready, you've decided even before the thing comes that it's yours. You can either walk through the door…or not.
It's your choice.
Copyright © 2014 Deborah A. Bailey
Thoughts on what you've read? Leave your comments below!