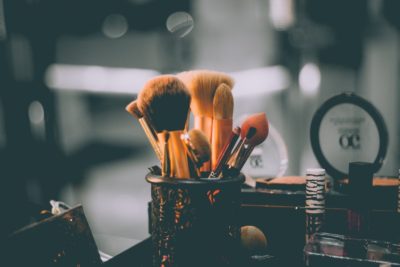 Even though the use of cosmetics has been around for over 7,000 years, the beauty industry is still one of the most profitable industries around. In order to be a top competitor in the field, beauty companies have to make constant innovations and continue to be a stand-out company. With all the smart and talented women entrepreneurs in the beauty field, here are some of the most stand-out women to really keep your eyes on.
Kat Von D
This edgy, tattoo covered business woman started out as a well-known tattoo artist and reality TV star but has quickly transformed into a beauty mogul. Her line, Kat Von D Beauty launched in 2008 and has grown as one of Sephora's top selling brands. What really made her line stand out initially was her Lock-It foundation, which not only serves as a full-coverage foundation but can also serve as a tattoo cover-up.
Known for the quality, the edginess of her bold makeup products and the wide range of clientele her products can serve, this line truly offers something for everyone. Whether you prefer to be adventurous with your makeup or favor a more natural look, you'll surely find something to love from Kat Von D's makeup line.
Emily Weiss
You may or may not remember Emily Weiss from being on a few episodes of "The Hills" but since then, Emily has turned into a full-on beauty tycoon, being the CEO and founder of makeup company, Glossier and beauty blog, Into The Gloss. She first started beauty blog, Into the Gloss but then after it's raving success, quickly started branch-off makeup company, Glossier, turning her brand into a billion-dollar enterprise.
What makes her company so special and different from others is their direct-to-consumer strategy. While they have two brick-and-mortar stores, instead of offering her products in largely known makeup stores such as Ulta or Sephora, their social channels and online website are their main sources of traffic. With the slick look and quality of their products to their affordable pricing, Emily and her company continue to be one of the top competitors in the beauty industry.
Nyakio Grieco
Even though Nyakio first started out in the entertainment industry, the first-generation American of Kenyan descent business women formed her groundbreaking skincare company, Nyakio Beauty in 2002. Sold at Ulta Beauty stores around the world, what makes this skincare line stand out isn't only the ethical and sustainable ingredients used from 13 different countries, but the story behind her products.
After visiting her grandmother in Kenya and teaching Nyakio her very first beauty secret of using Kenyan coffee and sugar to exfoliate the skin, she wanted to share her beauty secrets with the world. Her skincare line uses traditions from her cultural background while also sharing her global beauty secrets that deliver naturally beautiful results!
Liora Dudar & Maegan Scarlett
The two co-founders of oVertone haircare started their business in 2014. What started out as a small hair dye company quickly transformed into a revolutionary hair color disruptor. Liora and Maegan strived to create a product that had yet to exist on the market — a healthy hair color that would leave your hair looking beautiful with absolutely no damage.
With oVertone's hair color products being vegan and cruelty-free, their natural-based ingredients do just that. You can use their find your hair color page to guide you to the perfect product for you. Not only has oVertone made a mark with their bright and unique hair color selections but they've also differentiated themselves with their inclusivity, their attractiveness to millennials and their eco-friendly footprint. In a time where inclusion and eco-initiatives are more important than ever, Liora and Maegan are certainly ahead of the game.
Whether you're interested in starting your own beauty company or are just a passionate businesswoman yourself, these are definitely some of the best women to be your inspiration!
Picture credit (makeup brushes): Raphael Lovaski on Unsplash